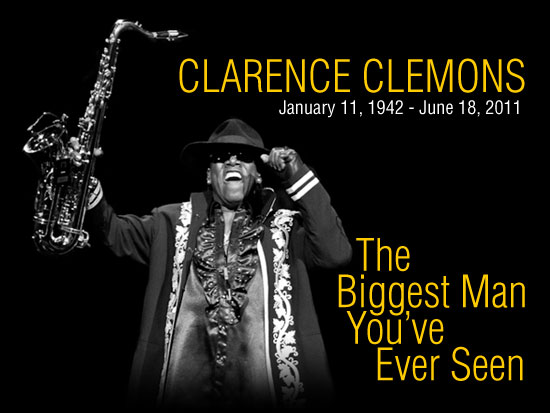 "When the change was made uptown
And the Big Man joined the band
From the coastline to the city
All the little pretties raise their hands
I'm gonna sit back right easy and laugh
When Scooter and the Big Man bust this city in half



Clarence was born in 1942 in Norfolk Virginia and for almost 40 years he was the E Street Band's saxophoneplayer.



It is with overwhelming sadness that we inform our friends and fans that at 7:00 tonight, Saturday, June 18, our beloved friend and bandmate, Clarence Clemons passed away. The cause was complications from his stroke of last Sunday, June 12th.

Bruce Springsteen said of Clarence:
Clarence lived a wonderful life. He carried within him a love of people that made them love him. He created a wondrous and extended family. He loved the saxophone, loved our fans and gave everything he had every night he stepped on stage. His loss is immeasurable and we are honored and thankful to have known him and had the opportunity to stand beside him for nearly forty years. He was my great friend, my partner, and with Clarence at my side, my band and I were able to tell a story far deeper than those simply contained in our music. His life, his memory, and his love will live on in that story and in our band. .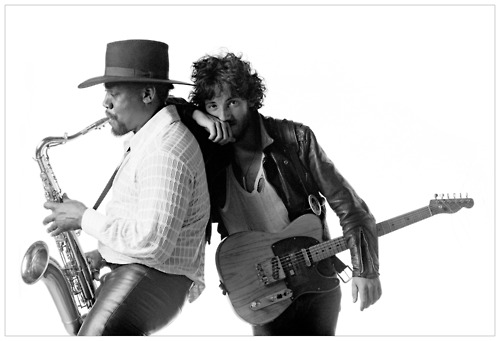 Clarence on Bruce and on joining the E-Street Band.

"One night we were playing in Asbury Park. I'd heard The Bruce Springsteen Band was nearby at a club called The Student Prince and on a break between sets I walked over there. On-stage, Bruce used to tell different versions of this story but I'm a Baptist, remember, so this is the truth. A rainy, windy night it was, and when I opened the door the whole thing flew off its hinges and blew away down the street. The band were on-stage, but staring at me framed in the doorway. And maybe that did make Bruce a little nervous because I just said, "I want to play with your band," and he said, "Sure, you do anything you want." The first song we did was an early version of "Spirit In The Night". Bruce and I looked at each other and didn't say anything, we just knew. We knew we were the missing links in each other's lives. He was what I'd been searching for. In one way he was just a scrawny little kid. But he was a visionary. He wanted to follow his dream. So from then on I was part of history."



Big Man, you will be missed by everyone that knew and loved you
and you will be remembered for all the soul you and your saxophone gave to us.
Rest in peace friend.





Can't be sure of how's it's going to be
When we walk into the light across the bar
But I'll know you and you'll know me
Out there beyond the stars


A beautiful You Tube Tribute
to both Clarence and Danny

Click the blue line to watch the Tribute
(Page will open in new window)

A few pictures of
Clarence's funeral &
Bruce's eulogy for Clarence

Click the blue line to go to the funeral page
(will open in new window)